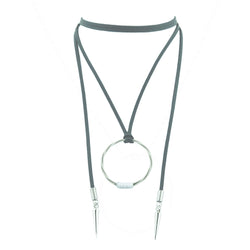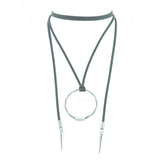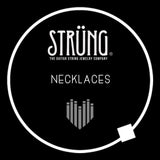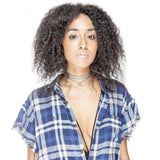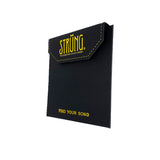 Necklace Name: ROCK GODDESS CHOKER CHORD (GRY/SLVR)
Release your inner rock star with a Rock Goddess Choker Chord.
Just like guitar chords are the centerpiece of a song, our necklace "chords" are the centerpiece of any rockin' look. Meant to be worn many different ways…No matter how you wrap the chord your style will be in perfect harmony.
Handcrafted with an Authentic Silver Guitar String Pendant

60" Faux Gray Leather "Chord"

One Size Fits All 

Percentage of Sale Donated to Music Education Initiatives 
With our charitable partnerships we are on a mission to
#helpsavemusic
by donating a percentage of every sale to the preservation of music education in the school systems. After 10 years on the road as touring musicians, we set out to give back to the music community. From an idea that stared with broken guitar strings, to creating products that bring music lovers and concert goes together, STR
ÜNG was born. Join us in helping to create the future rockstars of tomorrow.