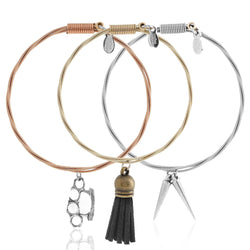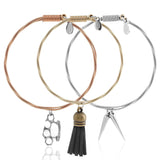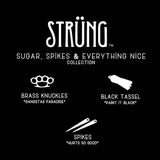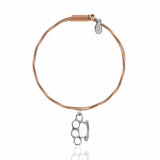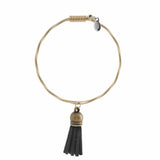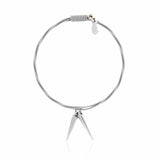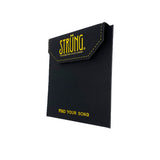 Bracelet Collection Name: SUGAR, SPIKES & EVERYTHING NICE
Inspired by Songs: "Paint it Black", "Gangstas Paradise" & "Hurts So Good" 
Song Card Quote: "It's been told that little boys are made of "Sugar, Spice and Everything Nice"..but what that classic song forgot to mention is those little girls are the ones to watch out for. We may look and play nice but don't turn your back for too long, unless you want to see the spikes come out.."
Made from Authentic Guitar Strings in the USA
Comes with Three Bracelets - Silver/Gold/Rose Gold as Pictured 
Includes a Unique Collection ID Card & an Official Strung Pouch
Two Sizes (S/M & M/L)    **Message Us For Custom Sizes**
Each Bracelet Inspired by A Song #Findyoursong
Percentage of Sale Donated to Music Education Initiatives 
With our charitable partnerships we are on a mission to
#helpsavemusic
by donating a percentage of every sale to the preservation of music education in the school systems. After 10 years on the road as touring musicians, we set out to give back to the music community. From an idea that stared with broken guitar strings, to creating products that bring music lovers and concert goes together, STR
ÜNG was born. Join us in helping to create the future rockstars of tomorrow.